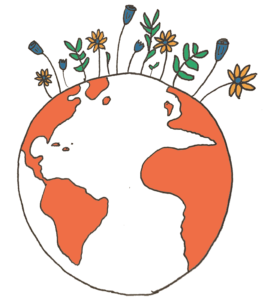 Friday, April 22nd is the big day for this blue marble. The theme for Earth Day 2022 is 'Invest in Our Planet'. And the focus is on "accelerating solutions to combat our greatest threat, climate change, and to activate everyone – governments, citizens, and businesses – to do their part." A reminder that it's our collective responsibility, and we're running out of time. 
Here I'll break down 3 ways you can invest in the planet this Earth Day, and beyond. 
1. Invest Your Time
Time. We only get so much of it. And there are many things vying for our attention all the time. As author Zadie Smith says,  "time is how you spend your love". Here are a couple ways to show the planet our love this Earth Day, by taking the time to care for it. 
Volunteer
Participate in the Great Global Cleanup on Earth Day. Earthday.org has an interactive map to find a clean up near you and other events happening in your city.
Make sustainable changes to your lifestyle
Our small acts add up. Things like using a reusable water bottle, buying local food and eating what's in season, taking reusable bags to the grocery store, avoiding fast fashion and buying less stuff. 
2. Invest Your Voice
Learning and talking about the climate crisis with our family, friends, and community is incredibly important. This is how we increase collective accountability and build pressure for businesses + elected officials to take climate action.
Educate yourself
Earthday.org has a ton of fact sheets on a variety of environmental topics from plastic pollution to the importance of bees. Or stay up-to-date on environmental policy and climate change news with these trusted resources.
Talk about it
Bring it up with friends and family, and share what you're learning. People trust people they know and it helps spur collective action. Remember to come from a place of empathy and understanding.
Get civically involved
Sign petitions, write your representatives, vote for elected officials that support climate action. 
3. Invest Your Money
Money talks. Where and how we spend our money is important, and an opportunity for us to align our finances with our goals for a healthier planet.
Align financial decisions with your eco-friendly principles
This is a great overview of ways to do this, from having a green investment strategy to sustainable banking.
Donate
Support nonprofit organizations that are addressing the climate crisis.
There is certainly no shortage of ways to invest in our planet. I hope you'll find a way to do so this Earth Day, and every day!